Resetting/changing password
Here are the steps for resetting password:

1.In the Claire logging page, click Forgot your password?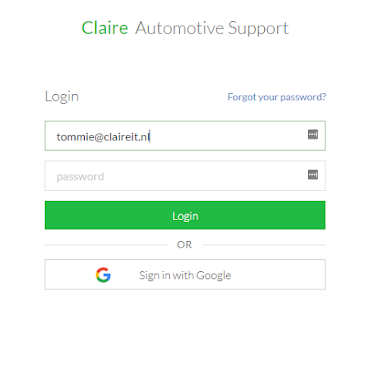 2.Enter your email address and click Reset Password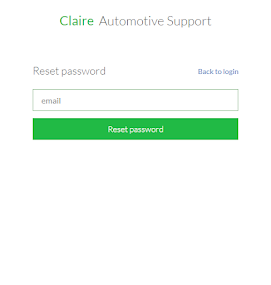 3.Click on the link contains on the email that will be sent to the email address you provided.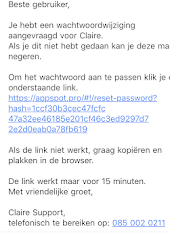 4.
When the link opens, you can change the password by entering your new password twice.
If this does not work or you no longer know your email with which your account was created, send an email to
support@claireit.nl
from your own email address then we can manually restore your account.
Related Articles

Changing location

On tablet, you have access to a screen where you can review your profile information. In it you can also change your location and select a language currently available in Claire. Where to access it Changing language This will make the layout language ...

Editing your profile

Purpose In the profile page, you can modify certain elements of your profile, change password, change default location and change landing page. Access The profile page is accessible at the top right corner. Updating information Updating profile ...

Changing the process status

Purpose Change the progress in Claire when the control is reported completed. Performing an action such as drawing up an estimate or the customer's agreement statement. Access In the workorder (appointment detail page), the bar will be display at the ...

Wachtwoord opnieuw instellen / wijzigen

Bent u het wachtwoord van uw Claire account vergeten dan kunt u dit als volgt resetten. Ga naar het inlogscherm Klik op Wachtwoord wijzigen Voer uw e-mailadres in Er zal nu een mail verzonden worden naar het ingevulde e-mailadres. Volg nu de stappen ...

Changing the appointment listed on main page

Purpose This new feature allows users to have a better overview of the appointment for the selected period. Prerequisite In order for it to be activated by the user, your location needs to have been configured. Simply contact us at ...